HOME ⇾ Business Areas ⇾ Engineering & Construction ⇾ Process & Feed Water
Engineering & Construction
Process & Feed Water
Dinotec designs and provides water treatment plants with a wide variety of technologies, returning the water to the required conditions for use in different industrial processes.
Some of these technologies are: filtration, dosages of reagents, membrane treatments (microfiltration, ultrafiltration, nanofiltration and reverse osmosis), decalcification, decarbonation, degassing, electrodeionization, mixed-beds and sterilization.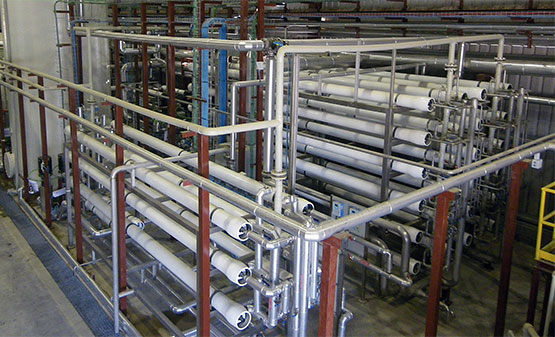 Dinotec has its own equipment production line for microfiltration, ultrafiltration and reverse osmosis membranes which allows the company to achieve the correct chemical and/or bacteriological water quality at a low cost.
These require specific knowledge in:
Filtration: Activated Carbon / Flint
Ion-exchange
Iron Removal
Decalcification
Demagnetization
Antifouling
Anti-corrosion
Demineralization
Catalytic Oxidation
Electrodialysis
Water preparation for circuits of:
Cooling: Closed / Open Circuits
Hot Water
Vapour
Food packaged water
Dissolution water
Miscellaneous water